The following is a blog post I wrote for 

The Guardian Global Development 
Professionals Network

.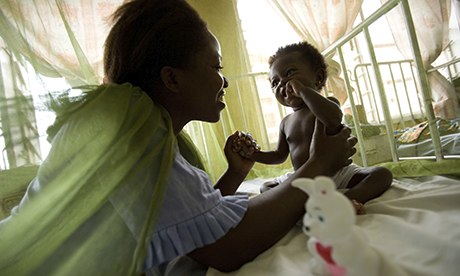 Many young mothers in Kenya want to return to school, even when the circumstances made learning a challenge. Photograph: Alamy
As we celebrate the International day of the girl today, we should take time to remember that young mothers are still girls, too. We need to do what we can to support them in their educational endeavours — even in means considered to be non-traditional. Mobile learning might be one way we can support young mothers when school interruptions occur due to early pregnancy. Here are some of my thoughts which draw upon the Kenyan context.
Schooling and early pregnancy in Kenya
With a high rate of early pregnancies among women in Kenya, female children in both primary and secondary school are increasingly being affected. One of the most damaging side effects of this phenomenon in Kenya is that once pregnant, many girls face barriers such as a lack of awareness among school administrators about laws on early pregnancy and schooling, severe time constraints due to care work, and even familial beliefs that deny them the right to continue their education.
Recently, speaking on education reform, cabinet secretary for education, science and technology in Kenya Jacob Kaimenyi drew attention to the difficulties that girls face when they want to return to school after having a baby. Although there is no policy in place that restricts a girl's ability to rejoin her peers in school, many girls drop out or are sent home when the pregnancy is discovered, are turned away when they try to return to school after giving birth, or are refused the chance to try and return because of the stigma the pregnancy and subsequent birth places on the girl and her family.
Commonly there is a desire by girl learners to continue their education, especially their formal education, despite their pregnancy even when the barriers to returning to school imposed by their families or schools and social stigmas may not easily permit it. Awareness-raising campaigns about the rights of young mothers, such as the girl declaration, can undoubtedly help address issues surrounding access to education by young mothers. Nevertheless, problems persist, and for girls out of reach or otherwise unable to benefit from these mechanisms, mobile phones could offer learning support.
Despite the use of mobiles in a number of facets of Kenyan society(banking, utilities, retail, health, transportation, etc), their use in education remains limited to a few offerings such as Eneza Education(mostly secondary) and eLimu (mostly primary).
Some of the oft-repeated challenges to mobile learning as a viable vehicle for education include the costs associated with ownership and maintenance of the devices, fears of inappropriate use, and the allegeddifficulty of reading on the devices with small screens.
While a study from Kenya indicated that some may go without food to own and maintain a mobile device, the device is often used to improve its owner's life, making the costs spent on its usage long-term investments. Eneza Education and gMaarifa demonstrate that high-end mobile devices and smartphones are not a necessary prerequisite for mobile learning in Kenya, since both organisations' approaches to mobile learning do not require more expensive mobile tools.
Inappropriate use of mobile devices is a common issue around the worldamong youth. Perceived and real problems can range from contacting a member of the opposite sex to cyberbullying. Yet, a knee-jerk reaction to this challenge is to ban youth mobile use altogether. Educating Kenyan girls — and their families — on potential pitfalls and guiding them to use mobile devices appropriately is more sensible, especially when they are likely to find a way to use the devices anyway. But we do not see many mobile learning initiatives globally making this an integral part of their approach, to the detriment of any possible long-term success.
Helping to dispel the notion that reading on mobiles is difficult, Worldreader adds evidence that reading in Kenya, even on small feature phones and eReaders, can be enjoyable and beneficial to young learners.
Education is key for marginalised girls (such as young mothers) to participate in all domains of the societies they live in. If an overarching goal for Kenya is to cultivate a knowledge economy, then more avenues of obtaining this knowledge need to be opened up for young mothers, a group that can contribute substantially to development efforts if given access to education.
Young mothers of school age in Kenya make ideal beneficiaries of mobile learning opportunities when they experience school interruptions because they have a strong need for flexibility when juggling the demands of child rearing, are not always able to attend school even if they are permitted to return, do not always have consistent or affordable access to formal education or computers, may feel embarrassed to return to school after giving birth, and can make use of the mobile literacy skills they gain to pursue income-generating activities, if needed.
What subjects can young mothers access through mobile-based instruction?
When girls leave school after becoming pregnant or are unable to return after giving birth, the stigma of exclusion compounds their marginalisation. But we are seeing encouraging signs of possible future support in bridging the home-school divide at the primary and secondary level with educational technology. Through mobile devices, we have seen a number of subjects taught including maths (Dr Math, M4Girls), mother tongue languages (eTaleem, MoToLi), science (Text2Teach), sexual health & HIV/Aids prevention (education as a vaccine), and life skills (learning about living).
For young mothers in Kenya, having support to access education at a distance, in the subjects above, which will be critical to their success as they grow into adults, should be viewed as a right and not a luxury. Mobile learning can be one medium to help realise this right. Nevertheless, even when this approach is undertaken, practitioners and educators must ensure they work to involve the girls' communities in the transformation process. Plan International has a number of resources for how community involvement in support of girls can be mobilised, including identifying community members who can be girl child champions. After all, it takes a village to raise a child.